The Crimson Danger is a type of shooter in Clumsy Ninja. It can be found in Sensei's shooter rack in the Ninja Kit. The Crimson Danger is the third shooter to be unlocked by the player and bought by the player. This item is unlocked at level 25. Amazingly, it gives you a total of 6,000 XP! Sensei has stated that this shooter is 'very dangerous'. The Crimson Danger can throw balls out by itself. The ninja seems like he does not like this item-not one bit at all! The Crimson Danger is a crimson shooter in Clumsy Ninja and costs about 9,200 coins.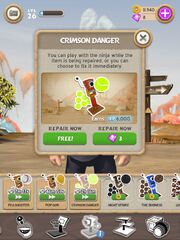 It can be repaired for 3 gems, or you can repair it for free by watching an application advertisement video or by tweeting on Twitter.
Crimson Danger is called Crimson Danger because of how dangerous it is and this shooter is crimson.