In-Game Description-Requires a punch with the power of a dragon!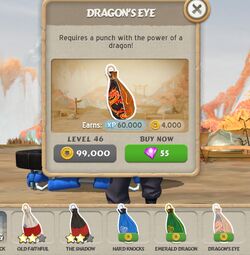 Dragon's Eye is the last punching bag (kicking bag, sack) to be unlocked. Dragon's Eye can be found in Sensei's kicking bag rack in the Ninja Kit. Amazingly, it gives you a lot of XP: 60,000 XP altogether;with also an amount of 4,000 coins! This punching bag costs 99,000 coins and has to be unlocked at level 46. You can also buy this item with an amazing amount of 55 gems!
The Dragon's Eye will improve your ninja's kicking, punching and strength skills. This item will also help you through the Path of The Ninja and help you level up, as well as earning belts. This item is said to be about dragon and so does the Golden Dragon and Rainbawl. This punching bag has the Chinese Dragon on it, so it probably represents something about Chinese New Year.
This item is unlocked at level 46.
This earns 60,000 XP.