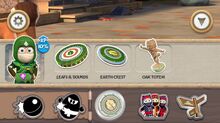 In-game description - Defend against Earth Crest attacks! Use your special moves to deflect.
The Earth Crest was a new addition in an updates.
When you prepare to throw it, it spins around.
Like many other special, limited time items, it earns the same amount of XP as the item that earns the most amount of XP that you currently have. If you buy an item that gives more XP per session, the XP amount will be increased, not remain the same.
It costs you 14,000 coins or 45 gems to buy the Earth Crest.
Appearance
It has the appearance of a disk. 
.
Ad blocker interference detected!
Wikia is a free-to-use site that makes money from advertising. We have a modified experience for viewers using ad blockers

Wikia is not accessible if you've made further modifications. Remove the custom ad blocker rule(s) and the page will load as expected.