This item was available on a special event/time.
The Gong was an item which was on during the Chinese Happy New Year event. It costs 9,000 coins and gave 5,000 coins. You had to throw your ninja on the Gong to get XP. This was a special item to be bought, as it was the Chinese New Year.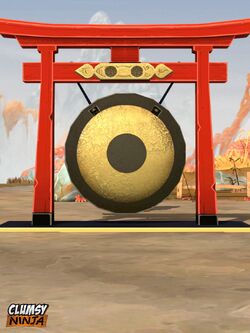 The Gong repairs every 1 hour and 30 minutes.
Ad blocker interference detected!
Wikia is a free-to-use site that makes money from advertising. We have a modified experience for viewers using ad blockers

Wikia is not accessible if you've made further modifications. Remove the custom ad blocker rule(s) and the page will load as expected.