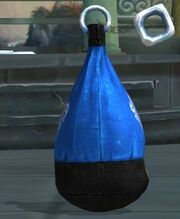 The Hard Knocks punching bag is one of the seven punching bags that can be found in the ninja kit. It is named after an elite school of training.
It gives you 23,000 XP in total and repairs for about 2 hours.
Oddly, the Blue Diamond Trampoline shares most of its colours/colors and characteristics. They share the same dragon symbol, too.
Ad blocker interference detected!
Wikia is a free-to-use site that makes money from advertising. We have a modified experience for viewers using ad blockers

Wikia is not accessible if you've made further modifications. Remove the custom ad blocker rule(s) and the page will load as expected.