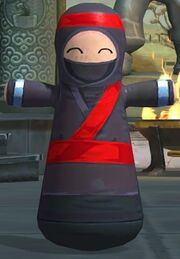 In-Game Description - The toughest opponent a ninja can face is himself!
The Little Brother Kick Dummy is the second to last kick dummy to be unlocked in the game.
It costs 110,000 coins or 50 gems, and it is unlocked at level 42. XP gained per session is 55,000.
In the objectives, the squirrel states that he made the kick dummy himself.
Appearance
Edit
This Little Brother Kick Dummy is a look-a-like of the ninja in the same way as the name states.
The Little Brother looks like the Clumsy Ninja in the game.
Ad blocker interference detected!
Wikia is a free-to-use site that makes money from advertising. We have a modified experience for viewers using ad blockers

Wikia is not accessible if you've made further modifications. Remove the custom ad blocker rule(s) and the page will load as expected.