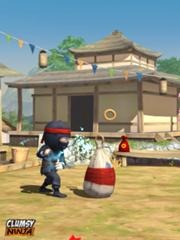 Sacks, or commonly refered as Punching bags or Kicking bags are training items that give up to 50,000 XP. The item is used by lifting the sack with a finger, which sets the item in use. The Ninja will improve on this item. There are several bags, earned by leveling up. They are a major part on training the Ninja with. Recommedations include practicing, which will improve Ninja's image.
Some of the kicking bags are rock solid!
These items come in different unique shapes, sizes, colors, styles and materials.