Sensei is the teacher of ninjutsu in Clumsy Ninja, and he has taught students how to become skilled at it.
General information
Edit
"Sensei" is a term used to refer to teachers of martial arts. Sensei is named after this, as he is a teacher of ninjutsu, a type of martial art.
Sensei has mentioned that he used to educate Kira. Kira became able at ninjutsu, therefore outgrowing her teacher and finishing her lessons.
Now he is educating the Ninja how to become skilful in the same way as Kira.
Appearances
Edit
Sensei gives you tasks to accomplish which you receive
XP
and
coins
for. He is mainly giving these tasks, although the ninja himself, the 
squirrel
and the hen can do so too.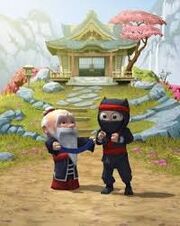 He gives you belts when reaching a level that a belt can be obtained, and he also appears when you level up.
When completing all missions available in the game, he appears next to the ninja, and it is recommended to continue training.