The Sleeping Mat is an item in Clumsy Ninja. It is where your ninja sleeps. You can earn XP while sleeping. Also, if you take him to bed everyday, you earn coins or gems as a daily reward.
To send him to sleep, tap the Sleeping Mat.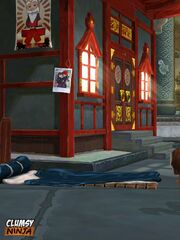 Daily reward
Edit
Sometimes, the ninja dreams in his sleep.