Spring Morning Trampoline is a type of trampoline you can train your ninja with. This trampoline is ranked after the First Jumper Trampoline, which is the first trampoline. It is the second-ranked in the trampoline rack, the very first that can be found in the Ninja Kit. Altogether, it will give you a total of 300 XP and no coins.
XP Gained: 300
Level Unlocked: 6
This trampoline is said to be called Spring Morning Trampoline because it springs your ninja up in the morning!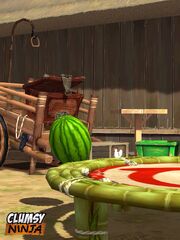 Ad blocker interference detected!
Wikia is a free-to-use site that makes money from advertising. We have a modified experience for viewers using ad blockers

Wikia is not accessible if you've made further modifications. Remove the custom ad blocker rule(s) and the page will load as expected.