This cute but mischievous squirrel is very adorable and is the second animal to be unlocked by the player.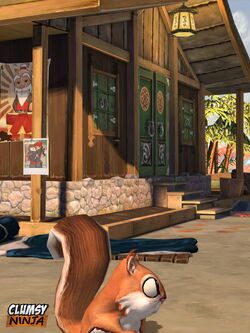 The squirrel is orange and is very adorable. This squirrel can be mischievous at times-but can also be a good helper! This squirrel runs around everywhere! When you tap on the squirrel, it will wrap up into a ball immediately and will squeak! Somehow, when the ninja is training, sometimes this squirrel 'cheers' for him by copying the ninja's moves!
Level Unlocked: 24
Cost: 1100 coins
This animal is said to be Clumsy Ninja's best friend (including the Chicken's!).
This squirrel is a male (he, his).
Sometimes, the squirrel is 'playing'
This squirrel pretends to train like the ninja!
You can attach balloons to the squirrel. One balloon will it stay regular. However, if you attach two or more, the squirrel will start to fly! It will curl up in a tight ball.

Squirrel used to belong to Kira before she got taken by Hori-Bull.
Sometimes, the squirrel will ride the chicken. (Or was it the chicken riding the squirrel?)
Ad blocker interference detected!
Wikia is a free-to-use site that makes money from advertising. We have a modified experience for viewers using ad blockers

Wikia is not accessible if you've made further modifications. Remove the custom ad blocker rule(s) and the page will load as expected.