The sturdy rice sack is a type of sack, usually best known as punching bags. Inside the bag is tons of rice and is very sturdy! This punching bag can give you lots of XP, also this doesn't give you any money!
Practice and keep trying. When your ninja masters it, he will do better than he did last time when he was a beginner at the sack! Soon, you will find Kira.
Buy all the sacks(aka punching bags) and master them. This will improve his punching and kicking ninja skills . He will improve when he was such a beginner and so clumsy! You will see big differences.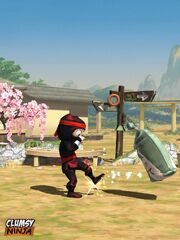 Ad blocker interference detected!
Wikia is a free-to-use site that makes money from advertising. We have a modified experience for viewers using ad blockers

Wikia is not accessible if you've made further modifications. Remove the custom ad blocker rule(s) and the page will load as expected.