The Temple is the final location to be unlocked. It is unlocked by level 36 and is a hidden temple. It has very ancient ruins, and The Temple has several statues of the
ninja
. There is a broken statue of the Clumsy Ninja, believed to have been broken by their enemy, the
Banished Ninja
, when he kidnapped
Kira
and ran away. There are also holes in the wall of the temple, and this temple before used to be visited by lots of visitors.
Sensei
says that it is an ancient tradition to ring the bell when the ninja does well.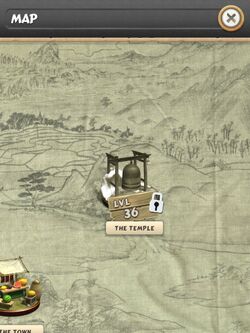 Some people assume The Temple is where the Banished Ninja sent Kira to.
The Temple probably used to be used as something.
Ad blocker interference detected!
Wikia is a free-to-use site that makes money from advertising. We have a modified experience for viewers using ad blockers

Wikia is not accessible if you've made further modifications. Remove the custom ad blocker rule(s) and the page will load as expected.